Last Dance, by Julien Tomasello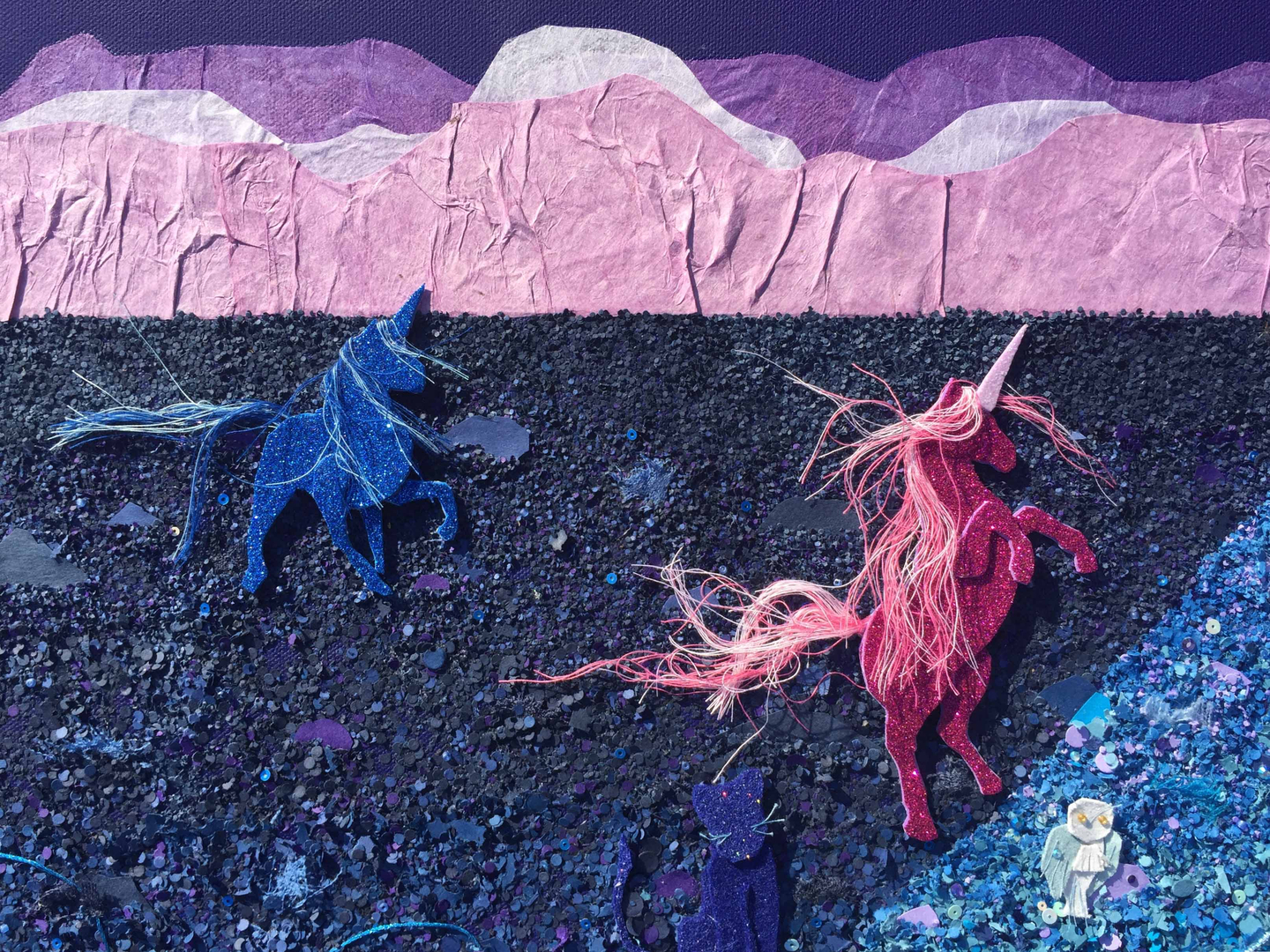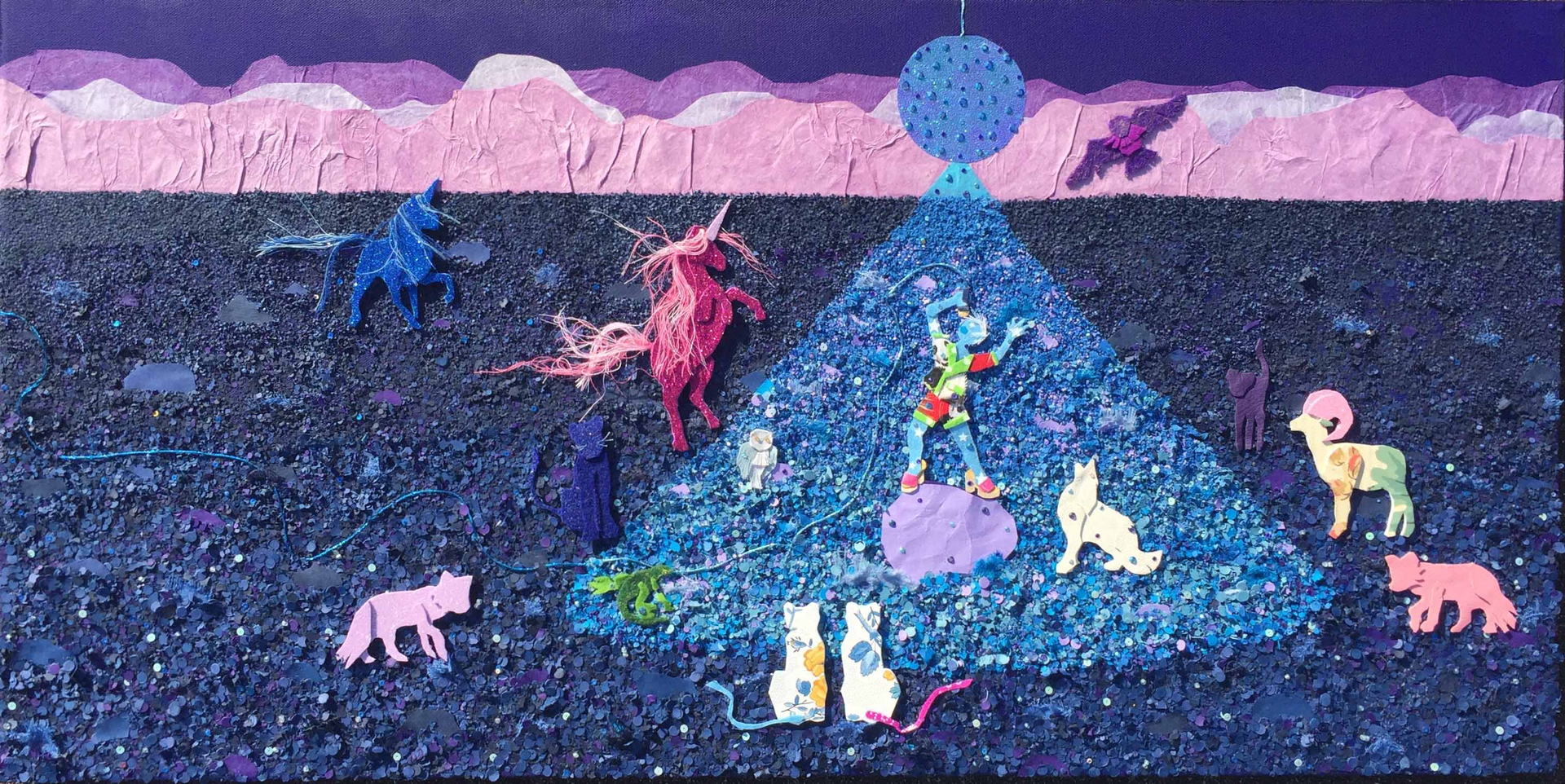 Artist's Statement
My diptych collage, "Last Dance" is inspired by my childhood obsession with (the now deceased) disco and pop singer Donna Summer. Summer appears in the 1978 film, "Thank God It's Friday" - a musical comedy that takes place during one night in the fictional, Los Angeles disco, "The Zoo". Donna Summer plays Nicole Sims, an aspiring singer who repeatedly attempts to have the disco's dj play her record, "Last Dance". Towards the end of the film, Nicole succeeds. On a stage, under a shimmering disco ball, surrounded by young and beautiful people, Summer/Sims sings "Last Dance" and becomes an instant star.
As a child, I was mesmerized by that scene, due in parts to Summer's glamour on stage, the steadily increasing tempo of "Last Dance" (which won an Academy Award for "Best Original Song"), and the Cinderella-like message that love and acceptance (and transformation) can be achieved through stardom.
Not only did I give rapt attention to that scene whenever the film played on cable television, but I would repeatedly play Donna Summer's record, "Last Dance" with toy microphone in hand, singing loudly, while wearing a pair of my mother's Candies high-heeled "slides".
My piece, "Last Dance" depicts the scene of a boy who has snuck away from home in the middle of the night with his dog. Together, they venture into the dark and beautiful Southern California desert. The boy, wearing pajamas and his mother's Candies high-heeled slides, climbs onto a rock and begins to sing Donna Summer's, "Last Dance". Magically, the desert moon is changed into a shimmering disco ball, wild horses become colorful unicorns, and the animals of the desert join to become an audience for the boy who is transformed into a beloved star.
Last Dance can currently be viewed in the exhibition, Stonewall@50 through July 2019 at the Leonard Pearlstein Gallery, Drexel University, 3141 Chestnut Street, Philadelphia, PA, 19104. 212-895-2000.
About the Artist: Julien Tomasello
I am an American, multi-media artist. I commonly work in collage, sculpture, and video. My pieces often fuse personal experiences as an LGTBQ, gender-fluid person with narratives from the literature, music, film, art, and other expressions of culture I absorbed as a child and young adult, mostly during the 1980's and 1990's. Collage is one of the first art practices I embraced as a child artist. I now, as I did then, use the pre-existing hues, patterns, and textures of paper, textiles, beads, and bangles to communicate the world as I envision it. There is intimacy and escape in the meticulousness, obsessiveness, and repetitiveness of my collage method.
IG: @julien.tomasello